Do you have a Formula (single seater, open wheel) race or sprint car? Whether it is in regular use or just sitting there unloved because you do not want to pay the high test day prices or jump through the hoops of getting a race licence to drive it. At Javelin Trackdays we field questions all the time asking if drivers can use formula cars on trackdays, well now we can say yes.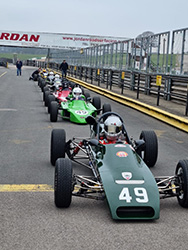 In co-operation with the enlightened management at Mallory Park we are introducing Formula Trackdays. The events will take place in conjunction with a sessioned trackday. Formula cars will get 20 minutes tracktime per hour (the aim is to provide approx. 120 mins of tracktime throughout the day). To ensure a safe environment Strict Trackday etiquette rules will apply. Overtaking on the left hand side only on straights although we will be allowing courteous overtaking around Gerrards. Other groups on the day will run for Closed Wheel Novices and Club / Marque Specific. 
Numbers will initially be restricted to a maximum of just 18 cars per session.  Additional Drivers (sharing the tracktime) that meet the licence and safety criteria below will also be allowed to share your tracktime.  So you can let others enjoy the thrill of driving a proper race car on track. Initially we will be allowing a small number of 7 style cars to participate within the Formula Sessions should the required number of Formula Cars not be reached although the ideal is to run Formula only sessions.
The requirements will be :-
Car
Single Seat  - Open Wheel Design of reputable manufacture.

Lightweight Caterham, Lotus 7 derived cars.

All cars must have Adequate Roll Over Protection (i.e. Race specification).

All Cars must not exceed a "Drive By"  Noise Limit of 103dba.
Driver
Must hold a Full DVLA Car or Senior MSUK Car Race Drivers Licence.

Must wear Suitable Full Face Helmet, Overalls, Gloves and suitable footwear.

Must be able to be seated in the car sufficiently protected by Roll Bars etc.

 = Under 20    

 = Exact Number
Showing 1 to 1 of 1 (1 Pages)